THE BENEFITS OF USING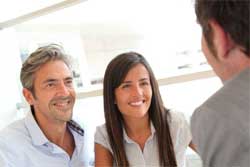 Using a buyers' agent to purchase real estate is becoming more widespread throughout Australia as investors and home buyers understand the benefits they provide. A professional buyers' agent, like Unique, can provide you with all the knowledge you need to make an informed decision about the value of a property without all of the sales "hype" often generated by sales agents and glossy brochures.
We will also ensure you don't pay too much by providing background information about the true value of the property, so that you can make an informed choice. By choosing Unique, the saving you make on your next property could run into tens or hundreds of thousands of dollars, could be less stressful and is likely to take less of your precious time.
We help you identify, acquire and manage investment properties.
Whether you are just beginning or an experienced investor you should talk to the property investment strategists at Unique Finance & Property Solutions.
With all the property marketers, developers and agents out there looking after their own interests, it's a great feeling having an independent adviser on your side, working for you. We do much more than research, negotiate and buy properties – we devise a property investment strategy designed specifically for you.
We have access to every property for sale and even those that aren't
We have no properties for sale, but unlike selling agents, we have access to every property on the market. We scour the markets to find properties to suit your needs and provide independent and unbiased property advice to help you make more informed property purchasing decisions.
Looking for property every day of the week means that we often come across property deals that are outstanding value. This usually happens when we come across a highly motivated vendor. They may need to sell quickly due to divorce, financial problems, moving interstate, or they have bought elsewhere and urgently need funds for settlement. Most of these properties are sold before they ever get advertised to the general public.
We act and work for you
We are paid by you and receive no commissions from selling agents or vendors. We have no interest in any of the properties we recommend for purchase. In other words, all our recommendations are genuine and completely independent. Our service covers everything from finding the property through to negotiation, acquisition and advice on property management
Our research saves you money
You make your profit when you buy well. Selecting the right property requires time consuming research of many factors including past sales results, market influences and factors that would impact on future values. Engaging Unique to source your new investment property or home means you won't pay too much.
Our experience saves you time
Searching for the right property takes a considerable amount of time, one of your most precious assets. Many of our clients are busy professionals and understand the need to leverage their time. We do all the legwork and present a shortlist of suitable properties for you to inspect. You can be assured that the people negotiating and securing properties on your behalf are well informed on market trends and values.
We find out what you want and get it for you
We take the time to determine your needs and your long term goals at the beginning of the search process so that we can identify properties that meet all your requirements.
Our skills reduces your stress
Buying an investment property can be a very stressful experience. Our job is to make the process as hassle free as possible. We guide you through the process, coordinating all the support services you need including solicitors, mortgage brokers, building inspectors, insurance brokers, accountants, quantity surveyors and property managers.
To see how using Unique's Buyers' Agents Service can benefit you, arrange a FREE initial consultation Contact Us now.