Building or Renovating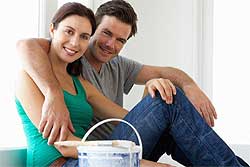 Building or Renovating – Getting the right loan can make the process easier
When you are looking to build a new home or renovating, you want a home loan that can grow as your new home does. You need to access funds as your progress through each stage of the building or renovation process.
At Unique Finance and Property Solutions we can find you the right to suit your needs whether you're building a home to live in, commencing or adding to a property investment portfolio or renovating for profit.
How do construction loans work?
Most construction loans have a variable interest rate, this is to allow for the loan to be progressively drawn as the construction or renovation of your home occurs.
Approval for a land and construction loan is a little different to approval for an established home. Often the land and building purchase will need to settle separately. To accommodate this, your initial loan will be run as two separate but simultaneous applications, one for the land purchase and the second one for the completed house and land cost. The second application will eliminate the first loan, leaving you with just the one loan.
During the building or construction period, you only pay interest on the part of the home loan that has been drawn down, or paid out to the builder. You will not have to make a full loan repayment until your home is completed.
Most lenders will also require that you build on your land within two years of actually settling on your land. The construction of your home or completion of your major renovation will generally be conducted in stages, with payments required at the end of each stage.
Your construction contract will detail the exact cost of the build, with the cost broken down into the payments the builder requires at each stage. There are six general stages of construction. These are:
| Construction Stage | Expected Progress |
| --- | --- |
| Deposit/Preparation | Plans, permits, connection fees, insurance and soil testing |
| Base | Concrete slab/footings completed |
| Frame | House frame completed and approved by building surveyor/local government |
| Lock up | Windows/doors, roofing brickwork and insulation is now completed |
| Fixing | Plastering, kitchen, bathrooms, tiling and internal fittings/fixtures are now completed. |
| Completion/Final | Home is now completed with site and house cleaned and ready for occupation after approval by building surveyor/local government inspector |
At the completion of each stage, the builder or service provider will present you with an invoice. In order to make the stage specific payment to the builder you will forward this invoice together with your lenders authority to make the payment to the lender.
Your lender may also require an inspection and valuation of work completed so far. A fee may be charged by your lender at payment of each stage.
Documents required for a construction loan
In addition to the normal verification documents required the lender will also require the following documents when seeking a loan for construction purposes:
All Risk Insurance, Public Liability and Workers Compensation insurance for your builder;
Home Warranty Insurance provided by your State Building Service Authority;
Council approved building plans; and
Signed construction contract and specifications.
Once your new home is completed the lender will require the following documents before the final payment can be made to your builder:
Final inspection certificates from your building surveyor or local government inspector; and
Certificate of building insurance.
Our credit advice process has been specially designed to take the stress out of sourcing finance for your new home or investment property. Read more about how we work at Our Process or Contact Us now to arrange a consultation with one of our experienced Credit Advisers.