Purchasing a Home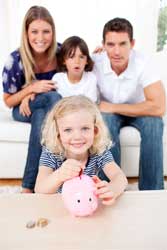 Buying a home is an emotional experience. It is normally the culmination of many hours of research and discussion with family and friends regarding where to buy, how much should you spend, will it suit my needs now and in the long term.
For most people, the purchase of their home is the most expensive purchase they will make in their lifetime. So it is critical that the decision about how to finance the purchase is made with all things considered and with the help of a trusted advisor who can guide you to the right decisions.
Our Credit Advisers have the experience required to make sure you find the right loan to meet your needs. They will ask the right questions to ensure that all of your needs are uncovered and that the lender and product you select will keep you on track and help you achieve your goals sooner.
There are a number of key steps to take when purchasing a home. We will let you know what and when each step needs to be done and involve any other key stakeholders, such as your solicitor, in the process. Using our experience and knowledge of the buying process will ensure nothing is left to chance so that you can enjoy the experience.
Our credit advice process has been specially designed to take the stress out of sourcing finance for your purchase. Read more about how we work at Our Process or Contact Us now to arrange a consultation with one of our experienced Credit Advisers.