FINANCE SOLUTIONS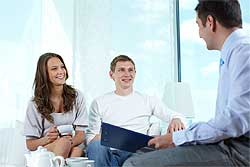 The Benefits of using Unique as your Mortgage Broker
We are APPROVAL EXPERTS, not just a normal mortgage broker.
Our services are FREE for most types of residential loans.
Access to over 40 lenders including the major banks.
What does a mortgage broker do?
A mortgage broker acts as an intermediary between a lender and a borrower. We talk to you about what you are looking to do such as buying a new home and then work out which lender will give you the best rate, fees and type of loan for your situation. Everyone's situation is different, and everyone's needs are different, so there is no all round "best lender" in the market. Because there are literally thousands of loans to choose from, finding the right loan is a very daunting task!
A mortgage broker makes the decision simple!
By using our expertise you can find the right home loan in a lot less time than undertaking the task alone. We will even deal with the lender on your behalf making the entire process of applying for a mortgage as effortless as possible.
What are your fees?
We don't charge any fees for standard loans. We will only charge a fee for short term loans (less than 18 months) and some types of commercial loans. For more information about any fees we charge please Contact Us.
How do we get paid?
By the lender! Lenders pay Australian mortgage brokers for doing the work that would otherwise be completed by a bank manager. These fees vary between lenders and do not alter the cost of your loan as they are paid by the lender.
Which lenders do you deal with?
We can deal with all major bank and non-bank lenders. We have a strong relationship with the large banks such as the Commonwealth Bank, ANZ, Westpac, National Australia Bank, St George and we are accredited with most of the others.
Why should I use you rather than going direct to my bank?
If you go to your bank direct you can't be sure that you are getting a good deal. All they will show you are the home loans and discounts that they themselves offer.
Like to know more about how Unique Finance & Property Solutions can help?
Call us on 0456 564 051 or email sales@uniquefp.com.au.